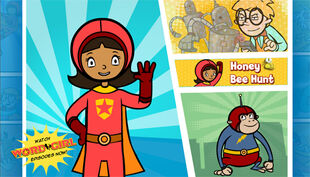 The Official WordGirl Website is a minisite on the PBS Kids Go! site. The layout is a basic blue background with a flash template in the middle of the page, containing many interesting activities and games.
The website contains four main categories:
The homepage shows three columns: the first and second shows different games, and the third has Huggy, who interacts with WordGirl when she appears.
The first category, is a section dedicated to various games and activities regarding WordGirl. It also features printable coloring pages, word searches, and other fun stuff to do.
The third category contains short bios of all the major characters and villains, along with any respective pages they may have, e.g. a coloring page dedicated to them.
The fourth and final category is a cinematic-esque "theater" where the viewer can watch several featured videos from the show.
Active games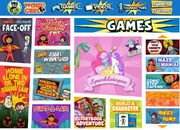 From source:
Retired games