" I'm Violet Heaslip. And here's what I think: Trees are beautiful! "
— Violet, Kids Action News
Violet Heaslip is a supporting character on the animated series WordGirl, voiced by Maria Bamford. She is Becky's best friend and likewisely 10 and a half years old. She shares her friend's love for mythic creatures such as unicorns and pegasi, and real-life animals, Unlike Becky she has significant artistic skill. She organizes herself with her very shy, soft-spoken, poetic and daydreaming attitude; she refuses to display fear when a meteor was coming right at her, even doing a poem on the encouragement of the moment about the occasion. She often appears to have a tenuous grasp of reality.
Appearance
Violet has medium-length blonde hair with a purple-striped hairclip, Her clothing consists of a long-sleeved purple shirt with a blue overall dress, eggplant-colored tights, and black Mary Jane shoes.
Relationships
Violet becomes bolder when any of her friends are treated badly or endangered and stands up for them as best she can. Violet also has a Persian pet cat named Priscilla, known earlier in the series as Fluffy, which accompanied Bob Botsford on the class' field trip to Zachary Zany's Candy Factory and also joined her for trick or treating as Captain Huggyface to her WordGirl costume in the Halloween-themed episode "Tobey's Tricks and Treats."
As well as being her best friend, Violet appears to be Becky's artistic mentor, deduced by the two of them painting together in numerous episodes. This implies that Violet cares a lot for Becky. Becky has mentioned feeling awkward visiting Violet's home. This is because it has a handful of rules that Violet tries to enforce which Becky found annoying.
In staying with her kind and compassionate personality, she also is more friendly to Tobey than other characters, even making an attempt to comfort him in "Tobey's Tricks and Treats". When they were very young, Violet beat Tobey in a game of checkers, thus causing the boy to avoid the game, yet still desire to become a checkers champion, which led to the events in the episode "Monkey-Robot Showdown."
In Rhyme and Reason (episode), Violet finds out that her best friend Becky (as WordGirl). At first this discovery devastates her, as she can't believe that her best friend would keep such a secret from her, but by the end of the episode they reconcile and move on. She also helps save WordGirl from a big logjam between Rhyme and Reason.
Appearances
Here she becomes "The Framer" and imagines she has superpowers, but she gets defeated by The Butcher.
Here she enters the Young Inventors Challenge and Friendly Competition with a dual Egg-and-Apple slicer she made with Becky (who used a bit super-strength to hold the pieces together), and won the competition for the hunger of the judge's love of free food. Later, WordGirl used the slicer to defeat Tobey's robot, earning Violet yet another trophy (as her invention saved the day). This trophy was later stolen by Victoria Best, and finally returned by WordGirl.
The Birthday Girl
In The Birthday Girl (episode)" Violet found a way to shrink the Birthday Girl down to Eileen, by tricking her into doing something big, instead of something greedy. Violet and Eileen usually have the same birthday (Eileen's actual birthday).
Violet is shown waiting in line for the Billy's music concert, standing behind Shelby Joy and ahead of Tessa. These are girls she had recently attended Becky's birthday with.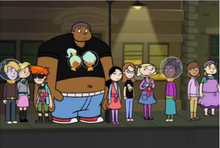 Appearances
TV Show
Legend
Y| Appearance
N| No appearance
S| Nonspeaking Appearance
M| Mentioned, No appearance
| Not filled
Season
Episode
1a
1b
2a
2b
3a
3b
4a
4b
5a
5b
6a
6b
7a
7b
8a
8b
9a
9b
10a
10b
11a
11b
12a
12b
13a
13b
14a
14b
15a
15b
16a
16b
17a
17b
18a
18b
19a
19b
20a
20b
21a
21b
22a
22b
23a
23b
24a
24b
25a
25b
26a
26b
Season 1
Tobey or Consequences
High-Fat Robbery
You Can't Crush City Hall
Two-Brain Highway
Coupon Madness
When Life Gives You Potatoes…
Jerky Jerk
Becky's Birthday
Chuck!
Down With Word Up
Book Ends
Mr. Big (episode)
Super-Grounded
Mouse Army
Tobey's Masterpiece
Chuck the Nice Pencil Selling Guy
The Birthday Girl (episode)
Granny-Sitter
Shrinkin' in the Ray
Department Store Tobey
Mr. Big's Big Plan
Vocab Bee
Chuck E. Sneeze
Swap Meat
Granny's Goodtime All-Cure Spritzer
Mecha-Mouse
Princess Triana and the Ogre of Castlebum
Heat Wave, Crime Wave
Meat with a Side of Cute
Mr. Big Words
Thorn in the Sidekick
Crime Takes a Holiday
Two Brains Forgets
Banned on the Run
Have You Seen the Remote?
Sidekicked to the Curb
Lady Redundant Woman
A Game of Cat and Mouse
The Masked Meat Marauder (episode)
Sandwich World
Violet Superhero
Big Business
The Handsome Panther
The Butcher, the Baker, and the Candlestick Maker
Mousezilla
Villain School
The Return of the Reprise of Lady Redundant Woman
A Simple Plan
Granny Mayor
Tobey Goes Good
Bongo Rock
Dr. Three-Brains
Season 2
A Vote For Becky
Class Act
The Two Brains Boogie
Field Day Fun with Robo-Tobey
Slumber Party Pooper
Line Lessons with Lady Redundant Woman
Mr. Big's Dolls and Dollars
Great Granny May (episode)
Theme Park WHAMpage
Chuck Makes a Buck
Highway to Havarti
Tiny Big (episode)
I Think I'm a Clone Now
Answer All My Questions and Win Stuff
Bonkers for Bingo
The Ballad of Steve McClean
Tobey's Tricks and Treats
Escape Wham
Pretty Princess Premiere
Where's Huggy?
Robo-Camping
The Stew, The Proud
Who Wants Candy?
Chuck's Brother
Becky and the Bard
Monkey-Robot Showdown
The Wrong Side of the Law
Two Brains' Quartet
Big's Big Bounce
The Young and the Meatless
Mr. Big's Mini-Golf
Nocan the Contrarian (episode)
Meat My Dad
Who is Ms. Question?
Lunch Lady Chuck
Oh, Holiday Cheese
Ch-ch-ch-Change Day
WordGirl Makes a Mistake
Earth Day Girl
A Hero, A Thief, A Store, and Its Owner
Opposite Day
Granny's Book Club
Wham Up
Seeds of Doubt
Wishful Thinking
Lady Redundant Woman Gets the Blues
Win a Shiny New Car
The People vs. Ms. Question
Oh, What a Tangled Rope You Tie, Amazing Rope Guy
Kids Action News
Season 3
Bummertime
The Home Run King
Granny and Clyde
Too Loud Crew
The Invisi-Bill Hand
Birthday Town
The Pretty Princess and Mr. Big Power Hour
Clean Up in Aisle Eleven
When Chuck's Mom Is Away...
That's Entertainment
Victoria Best (episode)
Showdown at the Secret Spaceship Hideout
Captain Tangent
Chuck and Brent Ride Again
Bend It Like Becky
Questionable Behavior
The Straw That Broke Two Brains' Back
Nocan the Evil Ingredient Finding Guy
Cherish is the Word
Granny's Intuition
Bampy Battles Bots
Truth, Revision, and the Lexicon Way
Meat-Life Crisis
Mobot Knows Best
A Better Mousetrap
Season 4
Sonny Days with a Chance of Showers
Seymour ... Right After This
The Fill-In
Word (Hicc)Up!
Mouse Brain Take-Over
Leslie Makes It Big
Chuck with a Sidekick of Brent
Yarn-4-Gold
Whammer Anniversary
Rat Trap
WordGirl and Bobbleboy
Crime in the Key of V
Where Have All the Villains Gone?
Captain Tangent Returns
A World Without WordGirl
Have Snob, Will Travel
Tobey's Playground Calamity
The Learnerer (episode)
Mr. Big's Dinner and a Scam
The Birthday Girl's Monstrous Gift
Hal the Haggler
Wordbot
Mount Rushhere
Road Rage, Anger, and Fury
By Jove, You've Wrecked My Robot
Season 5
Seize the Cheese
Ms. Question's Riddle Rampage
The Meaty Dimension (Episode)
The Case of the Copied Mrs. Botsford
The Good, The Bad, And The Chucky
Granny's Pet Plan
Hard-Learned Money
Gift Pony
Scary with a Side of Butter
Talent Show Tobey
Don't Mess with the Best
Peanut Butter Battles
Hello New Year, Goodbye Moon
Art in the Park
Plain Old Mischief Makers
House Arrest
Monkey Business
Say it Again, Eileen
Best Fan Club Meeting Ever
Day at the Museum
Who's Your Granny?
Win a Day with WordGirl
Dinner or Consequences
Father's Day Dance-a-thon
Big is Botsford's Boss

Season 6

Who Wants to Get Rid of WordGirl?
The Talented Mr. Birg
One Last Sandwich
Caper or Plastic?
Tell Her What She's Won!
Victoria is the Best...WordGirl?
High-Five Sandwich
The Robot Problem
Of Two Minds
Yes Monkey
The Rise of Miss Power
Invasion of the Bunny Lovers
Big and Brent
Silence of the Whams
Dr. Two Brains, Mr. Cheese
Kitty Cat Criminals
A Questionable Pair
All That Chazz
Fortune Crookie
Parsley, Sage, Rosemary and Crime
Go Gadget Go
Emergency Plan 999

Season 7

Kid Math (episode)
A Few Words From WordGirl
Ears To You
El Queso Mysterioso
Putt With Honor
It's Your Party and I'll Cry if I Want To
Becky's Bad-itude
First One to Win Wins
A Little Bigger WordGirl
Guess Who's Coming To Thanksgiving Dinner
Judging Butcher
A Curious Case of Curiosity
There's No V in Team
Sparkling Clean
The Smile Collector
My Dad, My Teacher, My Dad, My Teacher
The Power of Whamship
Royally Framed
WordGirl vs. Tobey vs. The Dentist
Accordion Tradition
Can't Touch This
Backyard Camping
Castle! Dungeon! Fortress! So?
News Girl
Diorama Drama: The Scene of the Crime

Season 8

Patch Game
Girls Day Out Throws Chuck
A Sticky Situation
Eight Legs Vs. Two-Brains
World's Best Dad
The Good Old, Bad Old Days
What Would WordGirl Do
Granny's Corner
Pineapple of My Eye
Big Baby
Staycation
Dr. No-Voice
Trustworthy Tobey
The Tooth Hurts
Time-Out with Two-Brains
Dr. WordGirl-Brains
Becky Knows Best
As Something as Something
The Ordinary, Extraordinary Botsfords
The Penny, the Pony, and the Pirate
Tim Botsford: Neighborhood Assistant
Set Sail for the Bake Sale
The Best of the Bests
Art's Parts
Rhyme and Reason
Trivia
It is known that Violet and Bob Botsford are really good friends. But in Too Loud Crew, when Bob talks, Violet seems to understand him. It is possible that Violet knows what Bob is saying, just like Becky .
Her voice gets lower and deeper in every passing season. It may be because of puberty and her getting older.
Violet's birthday is exactly the same as Eileen's, so when that episode aired she would have been 11 by now.
" One day I look up to see, a meteor headed straight toward me! If I weren't tied, I'd run and hide... Oh! Okay! Monkey ride!
(from Catch as Catch Can)

"
— Violet Heaslip
Gallery
Stock Images
Gallery
↑ In Slumber Party Pooper, when Becky mentions that she "recently" turned 10 and a half, she mentioned that Violet would not turn 10 and a half for "a month". Since then, Becky has celebrated her 11th birthday, and since "recently" is probably less than six months, this would mean Violet is now at least 10 and a half.