About me
| | |
| --- | --- |
| | This user supports PBS and viewers like you. |
Hi, I am Loli-Wordgirl1. I am a big fan of this show. I love WordGirl, and my favourite character is Mr. Big and many more.
I have depression and WordGirl is the only thing I'm watching so I know my share of WordGirl stuff, so yeah. Also I love the show for the simple fact that it's funny cute and very clever. :) When I first watched this show I thought it was good, cute, and hilarious. I enjoy it because it reminds me of Powerpuff Girls alot and WordGirl is so cute. :3
Anywho, I have lots of interests like culture, books and art. When I was 10, I was well-read, reading Sherlock Holmes books for fun. :) Also, my favourite pairs on this show are: WordGirl x Twobrains, Tobey x Violet and Mr. Big x Leslie.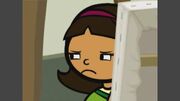 My sites I love to go to:
Also:
My fav pages on this Wiki are:
"Mary mary quite contrary, how does your garden grow? With silver bells and cockle shells and three maids in a row." ~ Mary mary quite contrary nursery ryhme
Community content is available under
CC-BY-SA
unless otherwise noted.