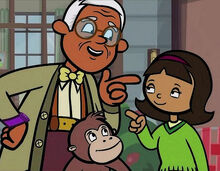 I'm a retired computer programmer who has developed an affection for the world of WordGirl.  I am an admin for this site, and I'm doing what I can to maintain and enhance it.  I've started adding transcripts for episodes, although my progress has been slow.  So far, I'm a over halfway through season 2.
My favorite pages
My favorite episodes
List of Title Cards
List of Closing Scenes for Episodes
Community content is available under
CC-BY-SA
unless otherwise noted.