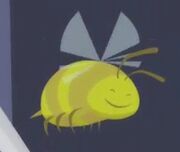 The Bee seems to be a running gag in the WordGirl series-- somewhat of an "Easter Egg".  It was first seen in the Season 1 episode Mr. Big's Big Plan, and has shown up at random moments in numerous episodes ever since. 
In several episodes, the bee can be seen doing something out of the ordinary for comedic purposes.  Some of the Bee's comic appearances include:
in Robo-Camping, it is seen at the beginning of the episode carrying what looks like a tiny suitcase attached to a luggage carrier.
in The Stew, The Proud, it can be seen at the end of the episode chasing Raul Demiglasse along with the angry mob.
in The Wrong Side of the Law, it can be seen carrying/stealing what appears to be either an ice cream cone or cotton candy during the rampage of the villains.
in Two Brains Quartet, it can be seen following the Botsfords as they proceed toward the stage.
in Tobey's Tricks and Treats, the bee was trick-or-treating (while following Emma and Eugene), along with many other children in the city.
in Mobot Knows Best, the bee sat on a rope web created by Amazing Rope Guy, causing it to collapse.
in WordGirl and Bobbleboy, a tiny WordGirl ends up riding the bee to get away from Dr. Two-Brains. Then Huggy uses the shrink ray to enlarge her back to normal size, which make the bee gigantic. It is later seen buzzing over the Botsford house.
in Granny's Pet Plan, the bee was wearing a purple hanker-chief following the other pets and stealing valuable items.
in Sonny Days with a Chance of Showers, the bee is carrying an ice cream cone outside the Botsford house.
Not in any of the 11-minute episodes, the bee can also be seen sometimes in the audience of "May I Have a Word?"
Gallery