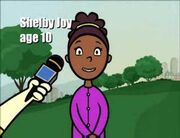 Shelby Joy is a girl seen in the series as a background character. Her name is revealed on What's Your Favorite Word? which she was on when she was 10 years old. Her favorite word at the time was "exquisite".
Another 10-year-old girl named Kabrina, who is identical in appearance to Shelby Joy, appeared in a different Favorite Word episode. This may have been due to an editing error.
Interview for WYFW
My favorite word is "exquisite". This is because I like the way it sounds in my mouth. Starting in second grade, my grandma was always saying to me, "You look very exquisite today." So that's how I began to like the word.
Appearances
Assorted
She is shown waiting in line for the Billy concert, standing ahead of Violet Heaslip and behind a girl who was previously shown attending Katy's birthday party.
Episode unidentified