Michelangelo's Whistle
is a peculiar whistle that was once owned by Michelangelo, a famous painter, sculptor, and architect who lived in Ancient Greece.
The Coach
tried to steal the whistle in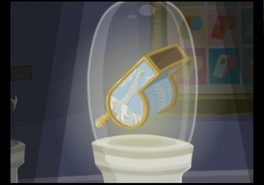 the episode "
Villain School
" in order to become as legendary as it's previous owner. He sent novice villains
Ms. Question
,
Big Left Hand Guy
, and
Timmy Tim-Bo
to steal the whistle. When he tried to blow into the whistle, he discovered it is a high-pitched dog whistle, and causes any dog in the vincity to seek the source of the noise.