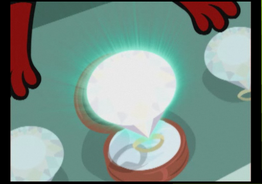 The Hoboken Diamond is an enormous diamond set in a ring that is mentioned in several WordGirl episodes. It is owned by Reginald, the jewelry store clerk, and it is quite easy to see on display in Ye Olde Fancy-Schmancy Jewelry Shoppe.
In the episode "The Birthday Girl", Wordgirl uses the Hoboken Diamond as a chance to define "exaggerate", saying,
"...Or, take that Hoboken Diamond! It would be an exaggeration to say it's as big as an elephant. I mean, it's a big diamond, but it's not as big as an elephant."
Also, the Hoboken Diamond was stolen by Granny May in the episode "Heat Wave, Crime Wave". It was returned by WordGirl later on in the episode.
It is possible the Hoboken Diamond is a parody of the Hope Diamond.
Although a lot of people have tried to steal/buy the diamond, it remains in the jewelry store.