Crestfallen is an episode of May I Have a Word where Emily correctly defined the word.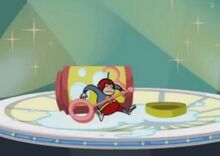 Plot
In Round 1, Phil buzzes in first, but forgets the definition and is upset with himself. Next Tommy buzzes in, and incorrectly defines it as a battle that you lose. Finally, Emily buzzes in and, noting that everyone was so upset in the clips, gives the correct definition: "Sad and disappointed."
   Phil:  "That's it!  I knew it.  I'm so..."
   Emily (completing his thought):  "Crestfallen?"

In the bonus round, Emily correctly chooses picture #2, in which Huggy looks crestfallen.
Prizes
An Official WordGirl Broom (Beau also throws in a dustpan, after Emily seems crestfallen that the prize wasn't an orangutan or a giant rainbow catcher)
The World's Biggest Bottle of Bubbles (which Huggy accidentally knocks over)
Trivia
This episode was not featured on PBS Kids website.
Transcript
Featured on WordGirl episodes